About hotel
Published on: 03.06.2015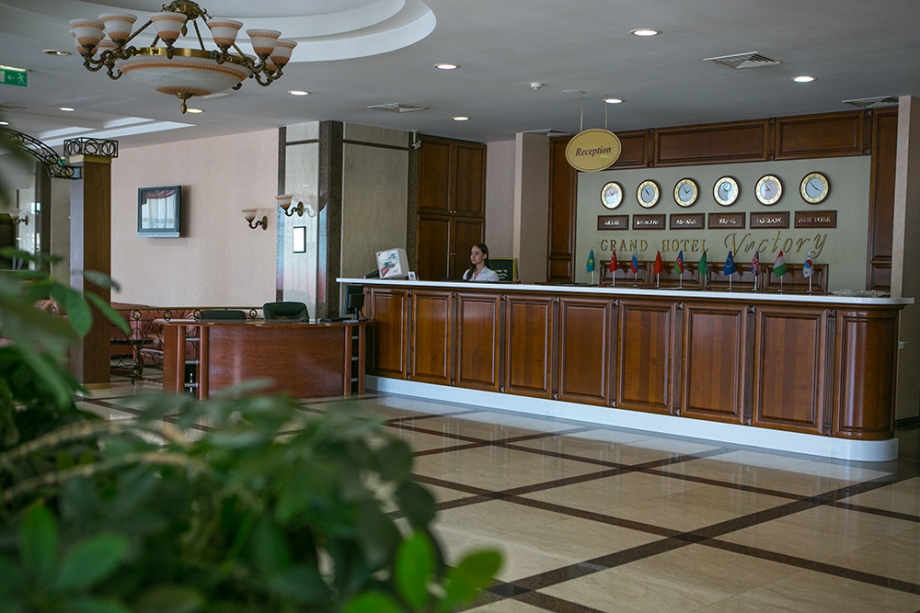 Grand Hotel Victory is rightfully named the most respectable hotel of Kazakhstan Caspian pearl – Aktau.
Hotel, which opened its doors in 2007, became the etalon of service and traditional Kazakh hospitality. Hotel is situated in one of the most spectacular points of the city, near the central sea front and city administration center.
At the hotel guests disposal there are 90 comfortable rooms, fitted with elegant furniture and latest technical devices.
All hotel rooms are designed for 1 to 3 guests. Non-smoking rooms are situated on 3rd and 7th floors of the hotel. All hotel rooms are equipped with electronic door locks and modern fire-extinguishing equipment.
All rooms have:
Guest room
Climate-control system with self-monitoring
Hotel LED TV "LG" with diagonal of 32 inches (32 channels – satellite broadcasting)
Telephone for local and international calls
Minibar (set of snacks, alcohol and non-alcohol drinks)
Minisafe(200х300х200 mm.) with electronic lock
WiFi connection
Slippers and bathrobe
Bathroom
Bath with a shower (in Lux rooms there is Jacuzzi)
Toilet with bidet
Fanandesthetic mirror
Telephone with open local and international lines
Disposable hygienic accessories